Afoniya's Blog
The original Russian article can be found here : http://primerussia.ru/article_materials/291
In an article for The Prime Russian Magazine (in its issue based on the theme of Marxism), the poet Alexei Tsvetkov wrote this portrait of Evald Ilyenkov, the last Soviet Marxist and one of the greatest and most original thinkers to work in the Soviet Union. Tsvetkov gives us a portrait of a truly unique figure whose works deserve to be re-read and translated as well as an unusual portrait of the atmosphere and times he lived in.
ON THE LAST SOVIET MARXIST
At the start of the armed conflict between China and Vietnam he howled at the radio refusing to talk with anybody. Sartre could well have written a novel about this man and Godard shot a film about him. Alexei Tsvetkov writes about the last Soviet Marxist, Evald Ilyenkov.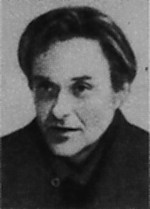 1940s: Dialectics of the Artillery
The son of a…
View original post 2,971 more words